Pearl Necklace Lengths
Choosing the right necklace length for you means not only the length of the necklace itself but also taking into account your neck, your body type and your face shape. To measure your desired necklace length, use a piece of string to measure the desired length. Then use a measuring tape or a standard ruler to measure the piece of string. Or you can estimate where a necklace will fall by checking our size chart below.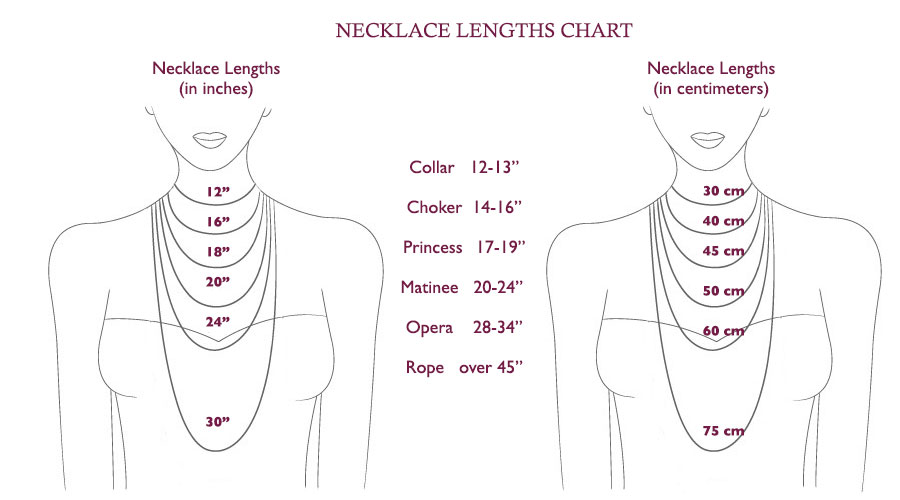 NECKLACE TYPES:
Collar - 30 centimetres (12 in) to 33 centimetres (14 in). Sits tightly around the neck. Perfect for open-neck, off-the-shoulder or boat-necks outfits.
Choker - 35 centimetres (14 in) to 41 centimetres (16 in) This length will fall just slightly above the collar bone. Choker is the most versatile length and suitable for all ages.
Princess - 45 centimetres (18 in) to 50 centimetres (20 in) long Sits on or slightly below the below collar bone. The most traditional and classic length. Perfect for a button up blouse, "V' or scoop necklines.
Matinee - 56 centimetres (22 in) to 58 centimetres (23 in) long Sits at the top of the cleavage. Traditional and classic. Great for both business and casual wear.
Opera - 75 centimetres (30 in) to 90 centimetres (35 in) long Sits below the breastbone. Suitable for every neckline. Perfect for high necklines and evening wear.
Rope - any necklace longer than opera. Can be wrapped to sit on or below the centre of the bust. Elegant business or evening wear.
Lariat - a very long rope necklace, usually without a clasp, often worn draped multiple times around the neck